Air Shafts
---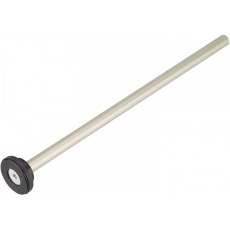 35mm Solo Air A1 Pike/Yari/Lyrik Air Shaft
RockShox solo air Pike/Yari/Lyrik air shaft is made of high quality material. Genuine and original RockShox spare part. Please select the appropriate air shaft for the fork, wheel size and the travel you want to achieve. 11.4018.026.000 Pike (160mm 26/150mm 27.5/130mm 29), Lyrik/Yari (140mm) - For use with a Pike 26" at 160mm, 27.5" at 150mm or 29" at 130mm. Lyrik or Yari at 140mm 11.4018.026.001...
---
Debonair Air Spring Upgrade Kits Pike, Yari, Lyrik
The 35 mm fork models below with Solo Air springs are compatible with the new DebonAir upgrade kit. It is possible to change maximum fork travel by replacing the stock Solo Air spring with a shorter or longer DebonAir spring assembly. Refer to the chart below for travel options. If maximum travel is increased or reduced it may also be necessary to add or remove Bottomless Token. Use the chart below...