About Us
TF Tuned
Bicycle and Mountain Bike Suspension Servicing
TF Tuned is Europe's leading independent mountain bike suspension specialist based in the UK. We focus on highly individual servicing with a reserve-booking system that means a fast turnaround and the minimum downtime for you - normally, you need only be without your suspension for 3 working days. The business was established in 2004 and now services, tunes and repairs in excess 7,000 forks, shocks and seatposts a year.
Our technicians have over 50 years experience of servicing and tuning suspension between them and each specialises in at least one of the brands we fettle.
We also offer a range of tuning options including after market upgrades from FAST Suspension and Vorsprung. To book a service or for more information contact us today on 01373 826800 or use the' book a service' option on our homepage.
New Suspension Fork and Shock Sales
TF Tuned sell a large range of new suspension forks and shocks from leading brands including RockShox, Fox, Ohlins, Cane Creek and DT Swiss.
Every fork and shock sale includes a full check with one of our technicians setting up your new suspension for you and your riding style. Our independence means you'll receive an unbiased opinion, and we will do our very best to recommend the best product for you and your budget.
Suspension Parts and Maintenance
TF Tuned also sell a wide range of bicycle and mountain bike suspension parts and maintenance products to keep your suspension running sweet. We stock parts from all of the main suspension manufacturers.
If you can't find what you need in our shop then just give us a call on 01373 826800
Finally
We pride ourselves on providing honest, unbiased advice to help you understand your servicing, tuning and upgrade options so that you can make the choice that best suits your needs. We are all mountainbikers and make a point of not trying to upsell you stuff you won't benefit from, or that does not provide good value to you. Occasionally we make mistakes - we're only human - however on the rare occasions when we do get it wrong, we work as hard as we can to correct the situation and put things right.
---
---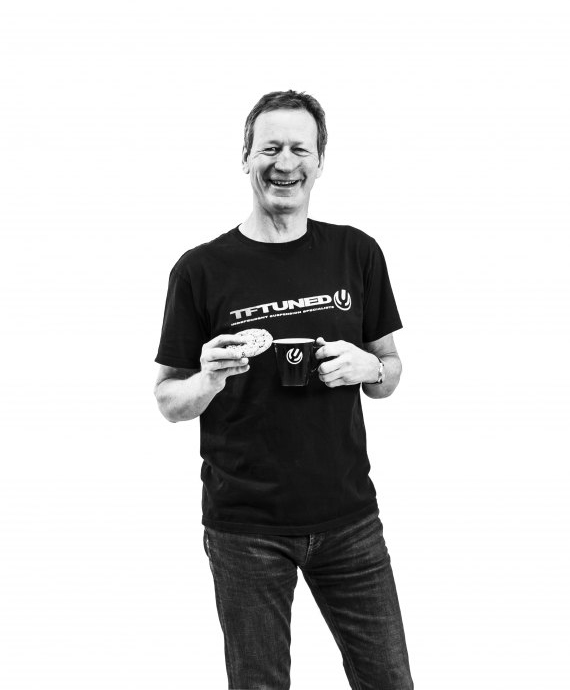 Ian 'The Boss' Kennedy
Ian is TF Tuned's boss. Since buying the business in March 2009 Ian has transitioned seamlessly from relative suspension newbie to passionate suspension enthusiast happy to chat 'leverage ratios' and 'instantaneous motion rates' with the best of them! Ian is also a veritable numbers expert and can frequently be found buried deep in Excel spreadsheets … although he mostly making sure we don't overspend on coffee and cake!
For all business related queries – speak to Ian
---
---



Paul 'are we nearly there yet' Byrom
Paul is an expert fettler and fixer of all things suspension related. His multiple years of industry experience mean that nothing ever fazes him or stops him getting the job done! Paul was probably born on two wheels as he's always riding - whether it's commuting on the road bike, ripping it up off road aboard his beautiful Kingdom Hex, or going really fast on latest motorbike.
For questions about Cane Creek, Vorsprung and Bike Yoke products – speak to Paul
---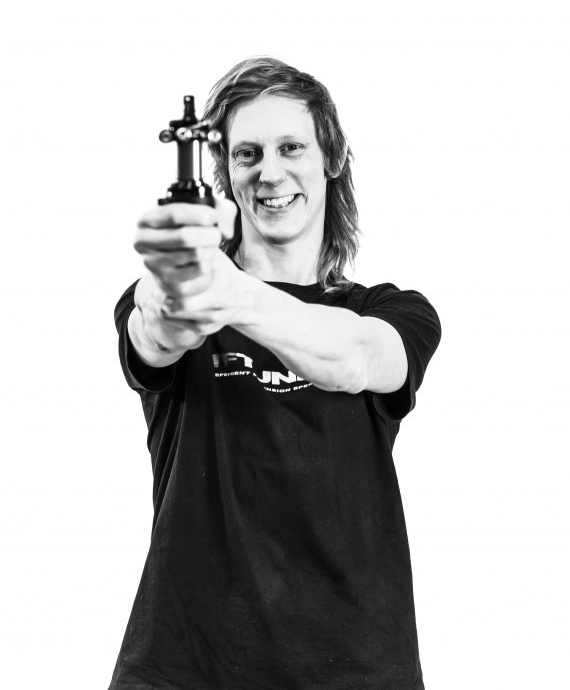 'MuzBuz' Murray Roe
Murray is the workshop creative, ever curious and always the first to dismantle and test any new product to see how good it really is. Just don't go asking him to read any instructions! Murray is pretty handy on a bike with a background in BMX and DH that has translated perfectly into the riding that we now call 'enduro'. If he decides to race then he can usually secure a top ten place on his super bling Transition Patrol – think 'stealth' bike complete with custom anodised parts, of course.
For questions about Fox Shocks, XFusion & BOS suspension – speak to Murray
---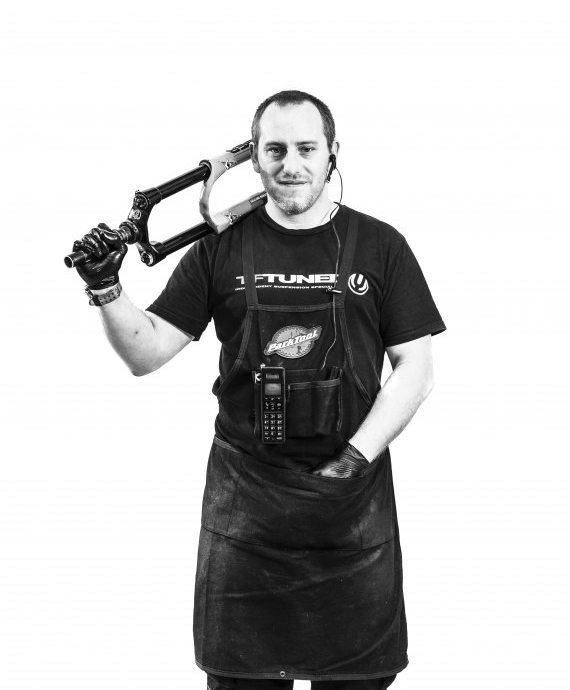 Adam 'that's amazing' Wickam
Adam is a bike industry stalwart and he was always going to be working here at TF Tuned fixing suspension, it was only a matter of time. As the personification of excitement and positivity Adam will take on anything that's broken -no matter how shonky - and then make it work. When he's not fettling suspension (or computers in his spare time) he rides his Kingdom Switch mostly up, down and along his favourite local trails.
For questions about Cannondale, Marzocchi & DVO suspension – speak to Adam
---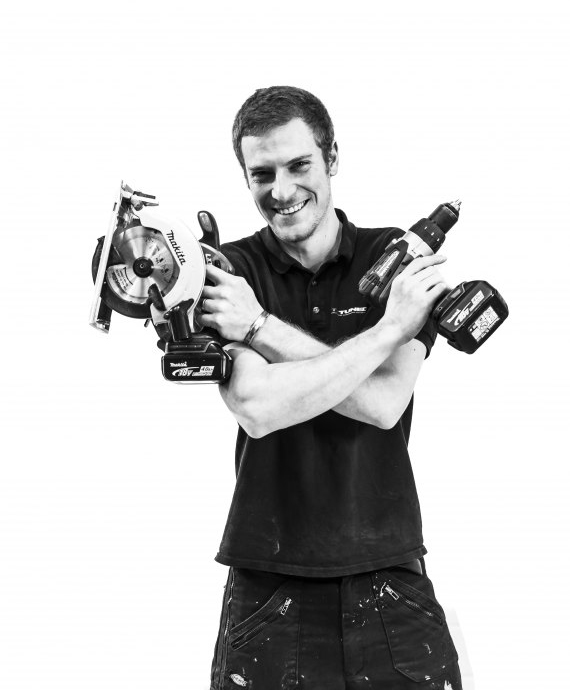 Greg 'comeback kid' Marshall
Greg has always enjoyed going fast. We think it has something to do with his Motorsports degree and running 60psi in his tyres (although apparently 30psi in your minions is fine now)! Greg is an expert with the dyno machine but is equally at home managing the technicians' daily work using a low tech whiteboard and marker pen. Greg began his biking career as a dirt jumper but has now happily progressed from neatly cut dirt jumps to the roots and rocks of the trail.
For questions about Ohlins products, DT Swiss suspension and wheel servicing – speak to Greg
---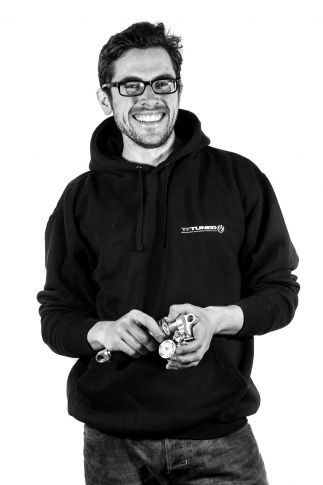 'Dr' Dave Attewell
Dave is far too qualified to work at TF Tuned, but luckily for us it was decided that his vast experience of the bike industry and passion for fixing things was more important; although he will always be 'Dr Dave' in the workshop. Dave is a cyclist to the core and manages to combine ridiculous commuting miles with an enviable turn of speed on his latest Transition Scout. Either way, he's just plain fast.
For questions about FAST Suspension, Fox Shocks and RockShox Forks – speak to Dr Dave
---



'Ruthie' Ruth Thomas
Ruth works in the TF office and looks after a bit of everything including the website, newsletters & marketing, service orders and keeping the office running smoothly. She's been riding mountain bikes since 'before suspension' which is probably why she loves her Transition Patrol just a little too much.
For any office/invoice related or web sales or trade customer queries – speak to Ruth
---



'D-Bag' Dee Langan
Dee ensures that all TF's service jobs and web sales are invoiced and despatched efficiently and on time. She's also a whizz at processing our warranty paperwork and chasing down missing product codes and proofs of purchase! Dee is a seasoned cyclist and loves seeing new places on two wheels, but of course since joining TF she is also now a fully fledged mountain biker too!
For all web sales and general service job admin queries – speak to Dee
We don't have a picture of Amy yet!
---
'Mrs Adam' Amy
Amy is TF Tuned's latest office recruit and we have abosolutely no idea how we managed so long without her. Scarily efficient, with an eagle eye for detail Amy can single handedly invoice an entire day's service jobs without batting an eyelid. A logistical whizz Amy deals with all our courier collections ensuring that everything is where it should be! Somehow she also find time to look after TF's Giant snails - Instagram stars Emily & Tayah!
For service job admin and courier issues - speak to Amy
---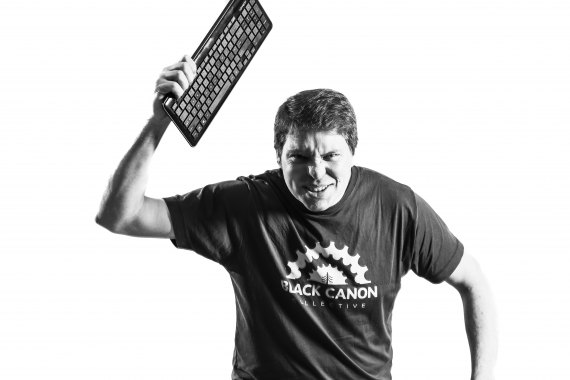 Al 'yeah I'm fine thanks' Mackinlay
Al is our 'behind the scenes' techy whizz person. Al is the mastermind responsible for TF's super efficient booking system and he keeps all our key hardware functioning correctly. If something breaks, goes wrong or we really don't know how to fix it, we call Al. When he's not doing clever things with websites for all his other clients Al can be found tweeting about everyday life and riding round Longleat with his seatpost far too high. He is also a BC/UCI Commissaire at the races ... we have no idea how he fits it all in.
---
---
---