Secus Fork Air Spring Upgrade Kit
Product Description
Secus Fork Air Spring Upgrade Kit for Fox and RockShox forks.
The Secus upgrade delivers the first and only air spring system to really come indistinguishably close to the linear spring rate of a coil fork for the entire first 2/3rds of its travel, with the advantage of a gentle end stroke progression to prevent bottoming without the "wall of force" harshness that excessively progressive springs create.
Secus Advantages
An enlarged negative air spring chamber delivers a soft, supple initial stroke for ultimate small bump compliance (yes, even compared to the Luftkappe)
Proprietary Midstroke Support Valve improves predictability and support beyond the sag point
Reduced lower leg pneumatic ramp means better scalability of the air spring, particularly for light riders who previously struggled to use full travel
Plush and predictable like a coil, bottomless like an air spring
Allows full use of travel in both directions - fully extends to topout without any quibbles (including on Debonair B1 air springs) and fully compresses without excessive ramp
Allows more lower leg bath oil to be used for superior lubrication
Considerably lighter than coil conversions - adds approximately 130g
Simple setup - inflate fork, bounce on it a few times, press MSV charge button, go ride
Compatible with OEM volume spacers for end-stroke progression adjustment
Compatible with other aftermarket top-cap systems such as DSD Runt and MRP Ramp Control
Lower compression ratios mean a more consistent spring rate
Transferrable between any Secus-compatible forks with only a footstud to change at most
Secus or Smashpot Coil Conversion?
Whilst we believe the Secus is the best performing air spring on the market, air springs still have moving seals and the friction and service requirements associated with that. Coil springs work extremely well and in a totally linear way with no friction, but are less adjustable in their spring rate and are heavier. The Secus adds approximately 130gms of weight, whilst the Smashpot coil conversion adds 250-450gms (depending on spring rate and existing air spring system).
Secus Compatibility
Most Fox forks with Float NA2/Evol air springs (except StepCast forks or forks with footbolts recessed in the lowers). 32/34/36 available now, 38 and 40 fitments coming soon.
Most RockShox Debonair 2019-21 forks or older forks updated with the 2019-20 Debonair air shaft. Pike, Revelation, Lyrik and Yari available now. Not currently recommended for forks with the latest 2021 Debonair C1 shafts due to inadequate topout control and incorrect overall length. These forks need to be retrofitted with the Debonair B1 air shaft assembly from 2019-20. Available here.
12 Month Crash Replacement Guarantee
Ride with confidence - we will replace any parts of your Secus damaged in the event of a crash or other accident for the first 12 months of ownership - no questions asked. Just email us a photo of what's damaged, your proof of purchase and let us know how it happened - we'll do the rest.
Installation
You'll need a torque wrench with a crowsfoot adaptor and 10mm shaft clamps (select the TF Tuned 10mm shaft clamp option shown on this page). Beyond those, nothing special is required - if you've serviced your fork's air spring before, you can install this easily enough.
FAQs
Is the Secus suited to lightweight riders?

Yes, absolutely - by significantly reducing the ramp-up effect that comes from compressing air within the lower legs of the fork (which generates the same force for all riders regardless of size, ie proportionally far more for lighter riders), we can make the fork work much more effectively for light riders.

Is the Secus suited to heavy riders?

Yes - the scalability of the whole air spring is improved. Heavy and light riders alike will now find the spring system performs much the same for either of them. However, manufacturer maximum pressure ratings need to be accounted for - typically with the Secus you'll run about 20% higher pressure than with a stock air spring, so check your fork's maximum rated pressure and ensure that you're ~20% lower than that with your current air pressure before purchasing. While the Secus itself is fine at any realistic operating pressure you're likely to encounter, we cannot guarantee that the rest of the air spring will hold up if manufacturer pressure ratings are exceeded.

It sticks out the bottom of my fork - what if I hit it on something?

It's true, you do now have an additional part outside your fork that you could potentially hit and damage. We've designed it to be as low profile as possible, able to flex out of the way for vertical impacts until it's supported by the lowers, and able to rotate out of the way for lateral impacts until it contacts the brake caliper. It protrudes about 15mm (sideways) beyond the lower legs of a Fox 36.

However occasionally somebody's going to get unlucky and damage it in a crash, just like any other bike part. To that end, we offer a 12 month crash replacement guarantee - if you damage it in a crash in the first 12 months of owning it, we'll send you the replacement parts you need, free of charge - just email us a photo of what's damaged and your proof of purchase and we'll do the rest. (Wouldn't it be nice if someone offered that for brake rotors or derailleurs?)

However, it goes without saying that you do need to use some common sense and be a bit more careful when taking the front wheel off and sitting the fork on the ground, flying with the bike in a bag/box, or throwing it over a tailgate pad, because even better than a crash replacement guarantee is not having to use it.

How hard is it to install? Do I need any special tools?

You'll need a torque wrench with a crowsfoot adaptor, and 10mm shaft clamps (select the Secus + 10mm shaft clamp option in the drop down menu). Beyond those, nothing special is required - if you've serviced your fork's air spring before, you can install this easily enough.

Does it make it harder to service my fork once it's installed?

Not really. You need to depressurise slowly whilst holding the MSV charge button, but other than having to slide the Secus off/on the footstud and realign it when torquing the footnut, the process is much the same. Air spring services can be carried out as per normal using OEM factory parts. Lower leg services can be carried out as per normal using OEM factory parts. The o-rings on the footstud need to be inspected every service - if they're dirty or damaged they'll need replacement. Each Secus kit includes spare footstud o-rings to make sure you're covered for this when the time comes.

Does it add any friction to the fork's movement?

No - while there is an additional floating piston, it's not directly connected to any of the moving parts of the fork. It only moves once pneumatic pressure in the lowers is enough to overcome the seal friction. All the other moving seals are the factory seals from Fox or Rockshox.

How hard is it to service the Secus itself?

No special tools are required to service the Midstroke Support Valve or the IFP. Service procedures can be viewed on our website.

How often does the Secus itself need service?

We recommend servicing the Secus (cleaning and regreasing the MSV and IFP) every 200hrs, or approximately every 4 lower leg services if you're keeping on top of your service intervals.
| | |
| --- | --- |
| Where do I get seals for the Secus if I need them? | Seal kits are available on our webstore or from our dealers. We also publish specifications for all the o-rings it uses in case it's easier for you to buy them locally. Spare footstud o-rings are included in the kit because these are the ones you're likely to need first. |
| Is the Secus transferable from one fork to another? | Yes - you may need another footstud however, there are several variants. |
| Is the Secus installation process reversible - can I go back to stock if I want to? | Yes - no issues here. |
| Does the Secus alter the damping? | No - the spring and damper are physically and functionally separate components. This has no direct effect on the damper, so whatever damping characteristics you had before, you'll still have after the Secus is installed. |
| Do I need to alter my damping settings or valving if I install the Secus? | Not necessarily - the average spring rate will actually be roughly the same as before, but the proportions change between early/mid/late travel. As a result, you'll still need comparable amounts of rebound damping, and compression damping is largely based on personal preference regardless of spring curve. You may find you prefer slightly different damper settings with the Secus, but it doesn't require drastically different damping settings (unless your existing settings weren't well suited for you anyway). |
| Should I also upgrade my damper to XYZ cartridge if I install the Secus? | You may prefer the performance of a better damper cartridge as well - however whether you upgrade your damper cartridge or not is actually a fairly separate concern to whether you install the Secus. |
| The Secus seems to fit a lot of different forks - does it have the same effect on all forks? | Yes, it has a similar effect on all forks - the extent to which it changes the spring characteristic decreases slightly as the fork's internal volumes increase. Without overcomplicating things, this means it has a slightly larger effect on singlecrown forks (eg 32/34/36/Lyrik/Pike) than it does on dual crown forks such as the Boxxer or 40, however the improvement is marked even on dual crown forks. |
| Why don't you publish graphs for all the forks the Secus can be fitted to? | Because there are simply too many variations to provide them for - even for one model of fork there are different travels, lower leg volumes by wheel size/year, volume spacer configurations, stanchion lengths, air spring shaft specifications, and then air spring pressure all affect the resulting spring curve slightly. However, the modern Fox and Rockshox forks are generally so similar in their spring characteristics that differentiating between them is basically splitting hairs. |
| Does the Secus work with MY2021 (C1) Rockshox Debonair updates? | No. The C1 sealhead effectively shortens the air shaft and reduces/eliminates the pneumatic topout control present in the B1/B2 air shaft assemblies. While the Secus can be physically attached to a C1 Debonair air shaft assembly, it will reduce your travel and may top out noticeably loudly. We strongly recommend replacing the C1 sealhead with a B1 sealhead. We will make a replacement sealhead available for those stuck with C1 assemblies soon. |
| Can I install a Luftkappe with this? | On Rockshox forks no. On Luftkappe-compatible Fox forks it's physically possible but it will not perform well. Use the stock air piston with the Secus instead. |
| Will this work with a Smashpot? | No. |
| Do the lower leg bleed buttons continue to work? | Yes, continue to use the bleed buttons as per normal. |
| Do I want/need the Secus? | It's an upgrade kit for performance-minded riders who want the best from their bike - you don't need it to go ride your bike and have fun, but it will improve your ride quality. |
| Will I even be able to tell the difference if I'm not very sensitive to suspension setup/behaviour? | You can feel a big difference just pushing on the fork in the parking lot. It's not a subtle difference. |
Delivery
For spare parts, if they are in stock we will send them out the same day if we receive the order before midday (except weekends). If we receive the order after midday, we will do our best to despatch them same day, but it may be the following working day. Orders placed after 3pm on Friday will be despatched on the following Monday. We normally send spare parts by Royal Mail post (see below or our 'Shipping' page for cost/delivery times).

Forks, shocks and large/heavy orders including bike frames go by courier. UK deliveries are with UPS, for overseas customers it's UPS, FedEx or DHL. In all cases these are fully tracked services and you'll need to sign for the delivery - please provide a suitable address with extra instructions if necessary.
Returns
You may return your order unused, within 14 days for a refund if you no longer require it, provided it is returned with its original undamaged packaging and is unused and unmarked. Please note, we do not refund postage unless items were supplied in error or are faulty.

Picking mistakes do sometime happen. If we supply the wrong part or there are parts missing from your order please let us know within 14 days of receipt so that we can correct the mistake. In the case of picking errors we will refund your postage costs on the returned item.

Faulty goods will be replaced with the same item or suitable equivalent, as appropriate.

TF Tuned cannot be held responsible for the non-receipt of returned goods so please ensure you use a tracked and/or insured service as appropriate to the value of the goods you are returning.

Secus Fork Air Spring Upgrade Kit for Fox and RockShox forks. The Secus upgrade delivers the first and only air spring system to really come indistinguishably close to the linear spring rate of a coil fork for the entire first 2/3rds of its travel, with the advantage of a gentle end stroke progression to prevent bottoming without the "wall of force" harshness that excessively progressive springs create.


Write the first review

In stock
Home Delivery
UK mainland delivery from FREE
You may also like...
---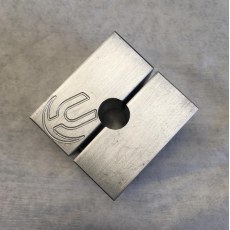 People who bought this also bought...
---
---
---