Intend
When you order a fork from us, one of expert technicians with strip, check and prep the fork before it gets sent out to you.
This is a unique TF Tuned service, ensuring that the fork is inspected and ready to go before you fit it to your bike.
We will:
dial the fork in to suit you, your bike & riding style, and if necessary, we'll resize the bushings.
make sure the correct spring for your weight is fitted (on some forks this will carry an additional cost)
This service comes inclusive of the price you pay + there's free delivery in mainland UK.
Once we receive your order we will be in touch by phone or email to get a few bits of info from you (weight, riding style etc.) which allows us to tailor the fork's performance to you.
---
---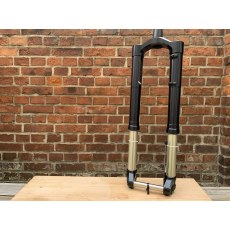 Flash - Enduro / Freeride Fork - 27.5/29'', 44
FLASH Enduro / Freeride Fork Overbuilt on purpose and ready for charging Improved overall stiffness and reliability Designed, engineered & tested in Freiburg / Germany Assembled 100% in-house and by hand – One at a time THE BIGGEST, THE BADDEST All you care about is going downhill? You're a heavy rider? Your riding style is uber aggresive? When someone asks you about the weight...