35mm RockShox Refresh Service Kit
Product Description
TF Tuned Refresh Service Kit for RockShox 35mm Forks (Lyrik, Boxxer, Domain, Yari, Pike 2014+). We have put together this refresh kit for RockShox 35mm forks as a result of requests from customers. This is the ideal kit for the home mechanic - keeping the forks lovely between services. The kit provides a significant discount on parts bought separately.
Mission/Motion Control Damper Referesh Kit


TF Tuned lower leg lube kit (lube, grease and syringe)


250ml of 5wt RSP oil


A choice of RacingBros Low Friction (flangeless) or SKF Wiper Seals


Charger Damper Refresh Kit


TF Tuned lower leg lube kit (lube, grease and syringe)


250ml of 2.5wt RSP oil


A choice of RacingBros Low Friction (flangeless) or SKF Wiper Seals


As this kit contains fluids it cannot be shipped outside the UK.
Delivery
For spare parts, if they are in stock we will send them out the same day if we receive the order before midday (except weekends). If we receive the order after midday, we will do our best to despatch them same day, but it may be the following working day. Orders placed after 3pm on Friday will be despatched on the following Monday. We normally send spare parts by Royal Mail post (see below or our 'Shipping' page for cost/delivery times).

Forks, shocks and large/heavy orders including bike frames go by courier. UK deliveries are with DPD Local, for overseas customers it's FedEx or DHL. In all cases these are fully tracked services and you'll need to sign for the delivery - please provide a suitable address with extra instructions if necessary.
Returns
You may return your order unused, within 14 days for a refund if you no longer require it, provided it is returned with its original undamaged packaging and is unused and unmarked. Please note, we do not refund postage unless items were supplied in error or are faulty.

Picking mistakes do sometime happen. If we supply the wrong part or there are parts missing from your order please let us know within 14 days of receipt so that we can correct the mistake. In the case of picking errors we will refund your postage costs on the returned item.

Faulty goods will be replaced with the same item or a suitable equivalent, as appropriate.

TF Tuned cannot be held responsible for the non-receipt of returned goods so please ensure you use a tracked and/or insured service as appropriate to the value of the goods you are returning.
Customer Reviews
STAFF REVIEW
28th June 2022
"I called up the team and they told me what I needed to upgrade my fork. The kit had everything I needed to do the upgrade. I wish I'd done the upgrade earlier as it's now brilliant. "

Staff response...
"Amazing - nice work, Jon! Ruth @TFT"
"Fabulous kit that fitted well, included all I needed and easy to use."

"A good kit for a bigger service, but you don't need this to do the standard lower leg service. However, really great kit that gives you everything you need."

STAFF REVIEW
8th October 2020
"Delivery was speedy arriving less than 24hrs after ordering, the kit itself was perfect with everything you would need to carry out the work. Excellent service and kit from the masters of suspension. "

Staff response...
"Thanks Pete, glad to get you sorted. Ruth @TFT"
"Great service as ever from these guys. Whilst the delivery is a bit slow due to the Covid-19 situation they are always fast to give feedback to technical queries. "

STAFF REVIEW
1st May 2020
"Cracking kit, good quality product, more than enough oil and lubricant for the service! And to top things off, the same awesome service as usual! The wiper seals I wanted weren't in stock, so the guys at TF upgraded me for free, can't knock that level of generosity!! Cheers guys! "

Staff response...
"Thanks Will - glad we could get you sorted. Ruth @TFT"
STAFF REVIEW
1st May 2020
"Everything you need in one kit, it's a great product thanks TF tuned "

Staff response...
"You're welcome! Ruth @TFT"
STAFF REVIEW
14th April 2020
"Great kit everything you need to do a basic service on you forks "

Staff response...
"Thanks for reviewing Bruce & happy fettling! Ruth @TFT"
"I repair bikes for a living, and tftuned kits are a very cool way to renew fork and upgrade them to smoother standards. "

STAFF REVIEW
22nd March 2020
"Relatively easy to fit. Extended from 130 to 140. Happy with the result"

"Everything included for the job! It's so much easier thanks to tftuned for providing a ready made up service kit. Awesome. Thanks!"

STAFF REVIEW
26th October 2018
MartinFitzpatrick
said...
"Great kit as always. Makes my forks like brand new only one problem I was sent 2.5wt oil instead of 5wt oil for my mission control r2c2 damper used the oil can't really tell any different "

Staff response...
"Hi Martin, Please give us a call if you need the 5wt - we can send you some out. Ruth @TFT"
STAFF REVIEW
25th July 2018
"Sent out wrong parts to me but next day they quickly sent out the correct parts. Great service so can't say any better then that. "

Staff response...
"Glad that we got that right in the end Rob! Ruth @TFT"
"Easy to order, quick delivery and great quality. No decal in the kit so i emailed in and they immediately posted out 4 of them! Excellent customer service! Will def use again. Pr'd all my local segments on my rebuilt pike! "

"Excellent! Would never have thought it would make a difference, also showed my son how to service his forks, only gripe is that the kit does not have enough oil as specified by rockshox but I knew this and got additional oil with the order."


Item: REF35RS
MPN: REF35RS
35mm RockShox Refresh Service Kit

15 reviews

Available to order
Note: Currently not available for delivery to European Countries EU & Non VAT and Rest of the World.
Home Delivery
UK mainland delivery from £6.00
You may also like...
---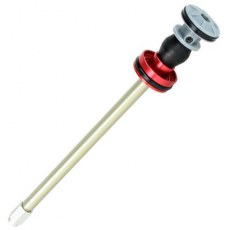 People who bought this also bought...
---
---
---