DIVINE
Product Description
Whoever has been looking for a reliable dropper with brilliant ergonomics and function, superb finish quality, low weight and travel reduction, now finally can stop searching:

BikeYoke DIVINE has landed!

The DIVINE is the new stablemate to the class leading Bike Yoke Revive. With a solid, measured action, it gives you the same build quality for a cheaper price-point, and further allows reduction of maximum extension (and drop) so you can get the most of the available travel without the need to opt for the shorter version. If the standard drop is slightly too long for you you can just reduce it if you need to. The new auto-reset function will bleed your post with every full drop, so you won't have to worry about a squishy post anymore.

Features:
Auto-Reset-Function: Every full drop automatically bleeds the hydraulic circuit for suspension-free lock-out
Reducible maximum travel: If you need a slightly shorter post or just prefer a little less travel, the maximum extension can be reduced in 5mm increments, using the included clip-on extension/travel spacer
Rotatable bottom part: In order to get maximum insertion into the frame, the foot can be rotated by hand to avoid interference with one-sided bearings or dents inside the frame´s seat tube.
Fully user-serviceable - all spare parts are available for end-consumers
Reducing the travel/extension takes about 5 minutes and only requires installing the included spacers onto the piston shaft.
A video guide can be found below.

DIVINE dropper post includes:
Product Features
Brand: BikeYoke
Colour: Black
Seatpost Diameter: 30.9, 31.6
FAQ
Is there a weight limit on the DIVINE dropper post?
DIVINE has a maximum rider weight limit (fully equipped) of 115kg.

Which remote do I choose?

If

you are running a 1-by crankset, then you choose our 'Triggy', sits under the handlebar instead of the front derailleur shifter. If you want to combine our Triggy with a Shimano I-spec brake lever, then choose the correspaninf I-Spec adapter
If you are still running a 2-/3-by crankset, then choose our '2-by remote'
How can I mount the Triggy remote to my handlebar?
You can mount the Triggy in several ways:
You use our smart 'Splits' clamp as a stand-alone solution
You directly combine it with your SRAM brake via 'Matchmaker', or with your Magura brake with Magura´s 'Shiftmix', or with your Hope brake using their ' Hope shifter mounts', or with your Formula brake with Formula´s 'Mixmaster'.
You combine Triggy with your I-spec compatible Shimano brake-lever, using one of our smart I-Spec adapters
You mount it with a regular SRAM trigger clamp

Can I mount saddles with carbon rails and/or high-oval rails to my DIVINE?
Yes, go ahead! Our DIVINES and REVIVES are compatible with standard and oval rails made from carbon or alloys.
Can I lift my bike on the saddle, or will anything inside the post get damaged, when I pull on the saddle?
Other posts may get damaged. The DIVINE will be OK, when you lift the bike on the saddle, or when you pull on it. The hydraulic circuit will automaticall bleed itself after a full drop.

My DIVINE slightly compresses, when I am pushing on it.
Every hydraulically locked post - no matter which brand it is from - allows a little bit of movement, when you sit or push on it.
This movement can be up to 1-2mm and is absolutely normal and you won´t be able to feel it during riding.

My remote does not return, after pushing it
This is most likely due to one of the following reasons:
The linkage at the bottom of the post is dirty or not properly greased/lubricated. Over some time, bikes collect dirt and mud inside the frame after washing them. This mud can get to the leverage mechanism, when having the bike upside down (for example after washing). Cleaning and re-greasing the mechanism should solve this. If you ofter washyour bike, using a lot of water, it is recommended to remove the seatpost after washing, so you can get rid of excessive water and mud through the open seattube. Not only will your post benefit from this, but also your frame bearings and your bottom bracket bearings. Always give your bike some time to thoroughly dry after washing.
The air pressure is not correct. The usual air pressure of the post is between 300-350psi. Less pressure inside the air chamber, does not only mean slower return speed, but also less return pressure for the push rod, that engages the lower leverage unit. Rest the post and fully extend it. Then wait a few minutes, before you pump the post to 350 psi, as described in your manual always in upright position and using a shock pump with a double-step valve, to avoid air loss when detaching the pump. In rare cases the valve core (valve insert) might have gotten a little bit loose after the first couple of rides rides, resulting in very subtle air loss over weeks or months. Use a valve key to torque the schrader valve core to the correct 0,5Nm for proper sealing function.
My post returns very slow, especially right before top-out, although pressure is set correctly
Check your seat collar. Some seat collar squeeze the seattube very unevenly, which can result in uneven deformation of the seattube and seatpost. Use the torque on your seat collar as low as possible, just so that your DIVINE does not slip inside the seattube, but in any case do not tighten with more than 5Nm.

My DIVINE feels a little sticky. Does it need a service?
Your post does not neccessarily need a service because of this. Most likely, it is just the small foam ring at the bottom of the seatpost inside the lower tube. This foam ring is a dirt and dust protection, that covers 3 (2 for the very first versions) small holes in the bottom of the post. Those holes allow the post to breath during dropping and extending. If the foam is soaked with oil/water/grease, it may clog the holes and make the post feel sticky during extending and harder to compress, since it will create another air spring in the lower tube. Air cannot get in and out fast enough.
That being said, too much grease during a service (and assembly) is not always the best thing to do.
If you remove the big circlip at the bottom of the post then you can slide up the lower tube and you will see the small foam ring. After cleaning this ring and reassembly, your post should work as smoothly as it used to do.
Delivery
For spare parts, if they are in stock we will send them out the same day if we receive the order before midday (except weekends). If we receive the order after midday, we will do our best to despatch them same day, but it may be the following working day. Orders placed after 3pm on Friday will be despatched on the following Monday. We normally send spare parts by Royal Mail post (see below or our 'Shipping' page for cost/delivery times).

Forks, shocks and large/heavy orders including bike frames go by courier. UK deliveries are with DPD Local, for overseas customers it's FedEx or DHL. In all cases these are fully tracked services and you'll need to sign for the delivery - please provide a suitable address with extra instructions if necessary.
Returns
You may return your order unused, within 14 days for a refund if you no longer require it, provided it is returned with its original undamaged packaging and is unused and unmarked. Please note, we do not refund postage unless items were supplied in error or are faulty.

Picking mistakes do sometime happen. If we supply the wrong part or there are parts missing from your order please let us know within 14 days of receipt so that we can correct the mistake. In the case of picking errors we will refund your postage costs on the returned item.

Faulty goods will be replaced with the same item or a suitable equivalent, as appropriate.

TF Tuned cannot be held responsible for the non-receipt of returned goods so please ensure you use a tracked and/or insured service as appropriate to the value of the goods you are returning.
Customer Reviews
STAFF REVIEW
10th August 2023
"Bought the Devine as I've previously had a Revive on another bike, and it's the same quality piece of kit, at a lower price point. Setup really easy, nice smooth operation. It is slightly heavier on the lever and under the saddle than the Revive, but it also operates at a higher pressure. Return speed isn't as violent as the Revive either, which I actually prefer. Worth the cost for something I know is going to be super easy to maintain when the time comes. "

Staff response...
"Such a good product isn't it Chris, we really like BikeYoke, so consumer focused and always striving to improve. Thanks for taking the time to leave a review. Ruth @TFT"
STAFF REVIEW
28th June 2022
"The dropper and lever are mint. Nice one. Fits perfectly. And great action and no side or for/aft movement. Very impressed with it and your abilities to answer my inane questions. cheers."

Staff response...
"Excellent Marcus! Such nice posts, really pleased you are happy with it. Ruth @TFT"
STAFF REVIEW
20th May 2022
"Excellent can't fault it was a little bit tricky to fit as Bosch motor had to be removed and awkward feeding ie Nicolai Eboxx this product replaced a magura veyron seat post the battery give up they make the best brakes but not seat posts the speed of this bikeyoke post is Greece lightning this is without question the best cable operated dropper period "

Staff response...
"We agree! BikeYoke for the win every time. Ruth @TFT"
STAFF REVIEW
24th June 2020
"Had an older Reverb on second hand bike, push actuator failed. Serviced by TFT, and talked to the very nice people there when I picked it up. They advised a Bike Yoke cable conversion. Easy to fit, no BLEEDY nonsense when taking post out. Really good, my mate has the bike now all running good. Got 2019 Whyte T130 and the Reverb had new shifter style lever, but from day 1 was a PITA. So much so that I avoided riding the bike and rode my hard tail. Spoke to TFT again and asked their advice before acting. They recommended the Bike Yoke post. I bleed my Reverb ( after waiting weeks for special bleed connector for new trigger). Good for 1 ride, then PITA - have you bled a Reverb !! Back to hard tail, no time, no patience. Frustrated with Reverb failure, no time to keep bleeding and no confidence in post bought Bike Yoke Divine. To fit took 10% of time to bleed Reverb. Works perfectly. My Reverb checked by SRAM under warranty, they say all good. Conclusions : hydraulic actuation with Stealth routing is plain stupid. Reverb post great when works but let down by actuator, and the need for so much crap to bleed etc. I have 100 quid Brand X post that works perfectly from cable - Divine much nicer to use, smoother etc, but main issue is DO NOT GO HYDRAULIC LEVER on any post. Love the Divine, it is divine - but as are Bike Yoke for solving other brands problems. TFT are also the best - you talk to very knowledgeable people from the minute the phone is answered. They then advise, or put you onto the human in the SPECIFIC know. In hindsight I should have just got a Bike Yoke cable conversion for my new Reverb - but I'm glad I didn't. SRAM - not good, just go cable. Bike Yoke - great stuff, fit quick, ride quicker. TFT - no BS, no patronising crap, no heavy sales nonsense. Good honest advice from those that know coz that's what they specialise in. Bit like going for a weekend away with Tim Flooks in the day when I bought a GT RTS 2, which was part of the package when I bought the bike. Tim and Helen - great people, TFT now have that same humanity and sadly uncommon social skills. "

Staff response...
"Andrew - what can we say. Top review! Ruth @TFT"
STAFF REVIEW
18th May 2020
"When it arrives you think, I hope the post is going to match up to the packaging. I wasn't sure if I'd been sent a bottle of vintage port at first. The good news is it's a great post. Easy to follow installation instructions. Been using for a month now and performance cannot be faulted. Love how the 180mm drop gets my saddle right out of the way."

Staff response...
"Yes it's lovely packaging isn't it! Post is rather nice too. Ruth @TFT"

Seatposts come without remotes, you will need to purchase one separately

5 reviews

In stock
Home Delivery
UK mainland delivery from FREE
You may also like...
---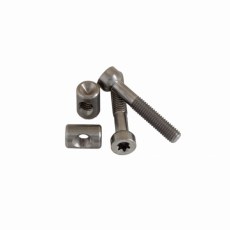 ---
People who bought this also bought...
---
---
---