Luftkappe Upgraded Piston Kit for Fox Float 34, 36 & 38
Product Description
Introducing the Luftkappe air piston kit for Fox Float forks. The Luftkappe is available for:
34 Float NA2 (Performance, Performance Elite and Factory Series, 2016-17)
34 Float Evol (Performance, Performance Elite and Factory Series, 2018+)
36 Float NA (2015-17) Performance & Factory Series (max 180mm travel, min 120mm travel)
36 Float Evol (Performance, Performance Elite and Factory Series, 2018+)
Fox 38 (2021+) - LK-34/38EVOL
Taking everything Vorsprung learned with the Corset air sleeves and the Luftkappe we developed for the Pike, Yari & Lyrik, this second generation Luftkappe is a new air piston assembly for Fox's 34 NA2/Evol, 36 Evol and 38 2021+ forks. User installable and simple to set up, the Luftkappe transforms a good fork into a great fork.
Softer initial stroke
Larger negative air chamber
Increased sag without the associated diving
Coil-like initial & mid-stroke spring rate without excessive bottoming
Increased sensitivity
Improved mid stroke support & control
Superior bump compliance and traction
Reduced hand fatigue
Reduces required compression damping
Retains volume spacer compatibility
Optional tools available for self-install
Pinkbike:
"The Luftkappe's change to the feel of the Lyrik was immediately noticeable on the trail. Traction was increased across chatter and the fork remained higher in its travel and more stable, improving the dynamic ride height without sacrificing the top end. My confidence soared when hitting sections with a lot of chatter and mid to large-sized hits, and the result meant more comfort and speed through such sections."
Can I install it myself?
Yes, provided you have access to the correct supplies and tools. If you're really crafty (and EXTREMELY careful) it is possible to install the Luftkappes (all Evol variants) without the installation tools, however the risk of damaging things is much higher and we really don't recommend trying. If you choose to take this route and damage your air shaft (or anything else), we cannot be held responsible - we make the tools available for a reason. It is not possible to install the 34 NA2 Luftkappe kit without 10mm shaft clamps and the bullet tool - you'll damage the shaft AND damage the seals on the new sealhead.

NOTE: IF YOUR 36 EVOL TOPS OUT NOTICEABLY, YOU WILL NEED TO REPLACE YOUR AIR SHAFT ASSEMBLY BEFORE PURCHASING THE LUFTKAPPE. FOX HAVE UPDATED THIS PART DUE TO THE TOPOUT ISSUES THAT MANY OF THE 2018 36 EVOL FORKS HAD. 34 FORKS DO NOT HAVE THIS ISSUE.
RELEVANT FOX PART NUMBERS FOR THE NEW AIR SHAFT ASSEMBLIES, BY TRAVEL:
180MM: 820-02-534-KIT
170MM: 820-02-535-KIT
160MM: 820-02-536-KIT
150MM: 820-02-537-KIT
140MM: 820-02-538-KIT
100MM (36 831): 820-02-539-KIT
IF YOUR FORK DOES NOT HAVE NOTICEABLE TOP-OUT ISSUES, YOU DON'T NEED TO REPLACE THE SHAFT BEFORE INSTALLING THE LUFTKAPPE.
(in)Compatibility Information:
Luftkappe IS available for:
34 Float NA2 (Performance, Performance Elite and Factory Series, 2016-17), 130mm and higher travel
34 Float NA2 Evol (Performance, Performance Elite and Factory Series, 2018+)
36 Float NA2 Evol (Performance, Performance Elite and Factory Series, 2018+)
36 Float NA1 (NA) (2015-2017)
Not compatible with:
Rhythm-series forks
E-bike specific forks
34mm forks for 29" wheels with 150mm or more travel
Pre-2015 36 forks
Pre-2016 34 forks
Pre-2016 34 forks that were later updated with the factory NA air system update
Any TALAS forks
Any 32mm forks
Any 40mm forks

Not sure which year or model your fork is? Grab the 4-digit code off the back of the fork lowers and check it here - FOX 4-DIGIT CODE CHECK
Delivery
For spare parts, if they are in stock we will send them out the same day if we receive the order before midday (except weekends). If we receive the order after midday, we will do our best to despatch them same day, but it may be the following working day. Orders placed after 3pm on Friday will be despatched on the following Monday. We normally send spare parts by Royal Mail post (see below or our 'Shipping' page for cost/delivery times).

Forks, shocks and large/heavy orders including bike frames go by courier. UK deliveries are with DPD Local, for overseas customers it's UPS, FedEx or DHL. In all cases these are fully tracked services and you'll need to sign for the delivery - please provide a suitable address with extra instructions if necessary.
Returns
You may return your order unused, within 14 days for a refund if you no longer require it, provided it is returned with its original undamaged packaging and is unused and unmarked. Please note, we do not refund postage unless items were supplied in error or are faulty.

Picking mistakes do sometime happen. If we supply the wrong part or there are parts missing from your order please let us know within 14 days of receipt so that we can correct the mistake. In the case of picking errors we will refund your postage costs on the returned item.

Faulty goods will be replaced with the same item or suitable equivalent, as appropriate.

TF Tuned cannot be held responsible for the non-receipt of returned goods so please ensure you use a tracked and/or insured service as appropriate to the value of the goods you are returning.
Customer Reviews
potamitishotmailcom
said...
"very cool stuf"

STAFF REVIEW
11th October 2020
"Did an air spring upgrade along with 10mm longer Evo air shaft. Vorsprung web site will give you all the details you need. Everything they say about the benefits of the Luftkappe are true. You do lose some workable travel hence the longer air shaft & changing the piston is difficult without the proper tool. I had 3 tokens in my air shaft and removed 2 at upgrade. If you need your fork service and are going to send it to TFtuned just get them to fit it. It's better than a new fork."

Staff response...
"Nice summary Brian! Ruth @TFT"
"Fast delivery and service from TF tuned. I installed the luftkappe upgrade myself, which I have to say without a vice at home was a real pain. Everything was simple enough but trying to get the roll pin in to secure it to the air shaft was tricky. If you have a vice it would be simple. Since installing though my fork (fox 36 performance elite, Fit Grip) feels amazing. The small bump sensitivity is great, it even feels like its working on stony chatter amazingly. It also allowed me to run a few PSI lower as well which adds to this. Well worth it! "

STAFF REVIEW
17th January 2020
"All great. I asked the service at TF Tuned to install Luftkappe on fox 36 170mm air shaft that I ordered in the same order. All ready for install when I received the package."

Staff response...
"Pleased we could help Kai Ruth @TFT"
"A great value upgrade to the Fox 36, really smooths out the small bumps, also gives a smooth initial suspension stroke. Front end feels much more compliant, and confidence inspiring. I did the installation without too many problem, the instructions were good from Vorsprung. Note: You need to also order the 2019 Fox Air shaft, lower service kit, and roll pin tool.. Good prompt next day delivery from TF Tuned "

STAFF REVIEW
15th May 2019
"Excellent upgrade to the 36's the small bump sensitivity has been drastically increased :) of course always top service from the team at TF "

Staff response...
"Thanks Jordan! Ruth @TFT"
"Suggested upgrade, giving the feeling like coil fork"

"Awesome upgrade and usual speedy service from TFT."


Luftkappe Air Piston Kit for Fox Float Forks

8 reviews

In stock
Home Delivery
UK mainland delivery from £5.00
You may also like...
---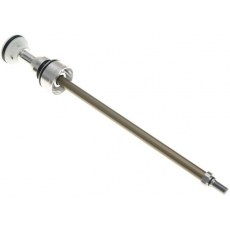 People who bought this also bought...
---
---
---