PUSH
PUSH Industries, Inc. was formed in Irvine, California in an 800 sq. ft. warehouse. The company was founded by Darren Murphy, a long time cycling/motorcycle enthusiast and suspension geek, as a way to combine his two passions. The goal? To provide industry leading customer service and provide consumers with the same level of product that is available to world class racers. Using National and World Champion Eric Carter and riders from the Turner Honda Racing Team, PUSH quickly established itself as the premiere suspension tuner for North America.

In late 2004 PUSH partnered with TF Tuned Shox in the UK. This partnership not only brought valuable experience from founder Tim Flooks and his staff, but also broadened the awareness of the PUSH brand throughout Europe. This partnership continues to grow to this day.

In May 2005 PUSH moved to Northern Colorado for expansion and a more centralized location for customers. Quickly settling into the wealth of trails and quality of life, PUSH moved into a 1260 sq. ft. warehouse allowing for the addition of new prototyping and test equipment. In 2006, PUSH supplied SantaCruz Syndicate race team riders Steve Peat and Nathan Rennie with custom tuned FOX coil and air shocks. The year 2006 also found PUSH expanding into CNC manufacturing. Starting in late 2006, 100% of all machined parts have been made in house.

In May 2008, PUSH Industries expanded again into a state-of-the-art purpose-built facility in Loveland, Colorado. This new facility again continues to provide the ability for PUSH to better serve its customers in a more timely and efficient manner.
---
---
---
---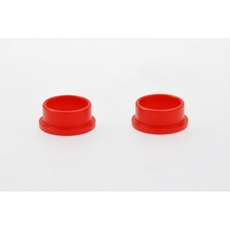 ---
PUSH Categories