REVIVE Max 2.0
Product Description
Our award-winning REVIVE is also available as an oversized version for 34.9mm seattubes. Not only the lower tube diameter increased to 34.9, but also the stanchion tube grew form 25mm to 28mm. Finally there is a dropper that gives a stunning look in beefy seattubes while gaining strenght and stiffness at the same time. This is unrivaled by the competition.
Optimized wall thickness and materials keep the weight extremely low and so our REVIVE MAX weighs in lower than some 'regular' sized posts of the competition.

Let´s see, what´s special about our REVIVE posts:

What if there was a dropper post, that actually solves and not just improves reliability issues, saves cost and time on the long run, and does not let you worry about too much time spent at service-centers?
Or how about "bleeding" your seat post within a few seconds, while it is still installed in your bike?

BikeYoke presents the REVIVE dropper post, featuring one of the most brilliant design features in dropper post design in many years.
More than 10 years of experience in drop-post design went into the "REVIVE" and the development has finally paid off.
Of, course, just as many other companies, BikeYoke would say, that REVIVE is reliable and strong and smooth, …
And yes, REVIVE is all of that, but not because we tried to improve current designs, but because we were thinking outside of the box and created a new concept, that is completely different from everything before.

To understand the benefits over other posts you have to know about the problems of many current designs first:
Many of the popular current seatpost designs are based on a hydraulic lockout-system that relies on a perfectly sealing IFP (Internal Floating Piston), separating oil from air to prevent the seatpost from getting sagging or bouncing. There are a lot of difficulties to overcome when using an IFP because an IFP has to maintain 100% sealing function. If air could go to the oil side, your post will start becoming springy. This happens to a lot of posts in the market already and is the main issue why posts need to be serviced.

That´s why BikeYoke´s "REVIVE" features a NON-IFP design, because we think it is too difficult - if not impossible - to make a really reliable design using an IFP.
REVIVE only requires 2 dynamic seals in the hydraulic circuit: The shaft sealing and the main piston sealing for the lockout mechanism.
The highly critical IFP has been removed, and with it the need of perfect concentricity and finish of the sealing surfaces of the tubes.
The lack of an IFP also results in the smoothest action you can think of.

The most important and ground-breaking feature of Revive is its "REVIVE-VALVE".
Even REVIVE can get air somewhere where it does not belong. This can happen for example when you actuate your seatpost while its upside down.
And here is where the patented RESET VALVE comes into play:
Insert a 4mm Hex Key into the REVIVE hex port, turn it and push down the post by hand.
This will reset your hydraulic circuit on the fly - whenever. wherever. This is done just within a few seconds and only by the turn of a 4mm Allen key or the integreated mini reset lever, that comes with the post - of course without even having to remove your drop post from your bike.
So, now one might already understand that:
No external air will want go inside the post´s hydraulic circuit, since it is charged with higher pressure, than its surroundings.
No oil will go out (or at least very very little oil over the curse of a long time), because of very stable sealing - external sealing has never been a real problem of current post design
The hydraulic system can be reset to "new" via the unique "REVIVE-valving"
This means the hydraulic circuit is a very stable closed system and basically maintenance free.
Still there are parts that will need to be serviced sooner or later and when designing REVIVE it was put a lot of attention to maximum user-friendly serviceability:
Bushings and keyway pins will wear over time. Usually, the pins wear first and you would want to replace them to reset your rotational play.
Exchanging the pins and the lower bushing is simple and does not require any opening of the hydraulic system and can be done within less than 5 minutes.
REVIVE dropper post includes:
Optional parts:
1x BikeYoke I-spec adapter or Splits Clamp (optional)
1 set titanium saddle bolts and nuts (optional)
Product Features
Colour: Black
Model: REVIVE
Seatpost Diameter: 34.9
Delivery
For spare parts, if they are in stock we will send them out the same day if we receive the order before midday (except weekends). If we receive the order after midday, we will do our best to despatch them same day, but it may be the following working day. Orders placed after 3pm on Friday will be despatched on the following Monday. We normally send spare parts by Royal Mail post (see below or our 'Shipping' page for cost/delivery times).

Forks, shocks and large/heavy orders go by courier. UK deliveries are with DPD Local, for overseas customers it's DPD, FedEx or DHL. In all cases these are fully tracked services and you'll need to sign for the delivery - please provide a suitable address with extra instructions if necessary.
Returns
You may return your order unused, within 14 days for a refund if you no longer require it, provided it is returned with its original undamaged packaging and is unused and unmarked. Please note, we do not refund postage unless items were supplied in error or are faulty.

Picking mistakes do sometime happen. If we supply the wrong part or there are parts missing from your order please let us know within 14 days of receipt so that we can correct the mistake. In the case of picking errors we will refund your postage costs on the returned item.

Faulty goods will be replaced with the same item or a suitable equivalent, as appropriate.

TF Tuned cannot be held responsible for the non-receipt of returned goods so please ensure you use a tracked and/or insured service as appropriate to the value of the goods you are returning.
Customer Reviews
STAFF REVIEW
7th May 2021
"This is the second bike yoke dropper I have had, both from TF tuned. They are the best dropper I have ever owned, smooth, minimal force required both on the lever and the seat. TF tuned went above and beyond in helping me by phone regarding insertion length. I thoroughly recommend both the post and TF Tuned."

Staff response...
"Hey Phil - great review! You are right, these posts are the best & we all run them here :-) Ruth @TFT"
STAFF REVIEW
30th May 2020
"I have the 160mm Revive Max 34.9, I have been using dropper posts since the gravity dropper came out over 10 years ago, since then I've used KS LEV and the ubiquitous Reverb. The revive Max is a definite step up in terms of robustness and quality of action, combined with a triggy remote seat height adjustment is fast, smooth and precise, the larger diameter of the shaft adds to the overall robust feel of this post. Bike yoke provide good information on basic service and this in part influenced my purchase decision along with the knowledge that proper support is available from TF Tuned. Fitting the post was straightforward and although I've only been out on couple of rides so far I'm loving it."

Staff response...
"Great to hear you love the Revive Chris! Thanks for the useful review. Ruth @TFT"
STAFF REVIEW
19th February 2019
"After years of using other dropper posts, having to live with all of their foibles and wee problems, along came this post. It's a fantastic quality product, the reset valve is works amazingly and removes the bounce out of posts instantly. Compared to other droppers the action is so smooth, I no longer feel that I need all my weight on the post to slam it to the bottom, if anything allows for more delicate use. Both the lever and post are very well made and fitting compared to the many other models out there is remarkably easy, it took me less than 30 mins, most of which I spent cleaning out where the old shim on my frame had been before installing the new much fatter post. I did have to use the reset valve straight out of the box, but as I said above, so easy to use and reset. One other feature is the amount of post collar there is out of the frame, compared to my old post, which was a good 40-50mm to the end of the collar, I can now run this one lower in the frame, but at the same height overall by comparison as the height of stack is far lower but the extension is 15mm more. Like the other reviewer said, if you love riding, go for this post, might seem like a more expensive option, but easily out weighed by the comfort that sending away for services is likely to be a thing of the past, and let's be honest, those service's are not cheap, especially if your going for them twice a year. Easily a five star product. Only wish I'd bought one a lot earlier. "

Staff response...
"Awesome review John - you're hired! Really pleased that this has transformed your riding, it's great when stuff just works. Ruth @TFT"
STAFF REVIEW
5th July 2018
"What a brilliant alternative to everything else out there. First off it was very easy to fit with minimal tools. Second, this thing just looks dope & works like nothing else ive used. Really smooth with a very light action. The shifter style lever is beautiful. After having my bike upside a few times for a mechanical, the post went soft at the top of the extension. Easy, turn allen bolt, push post down, release bolt & pop post back up - FIXED. No ringing LBS for a service etc etc. Just get this post if you love your riding & dont want to be without a droppper !! "

Staff response...
"Woo Hoo! Loving the post Ged, great review, thank you. Ruth @TFT"

Revive Max 2.0

4 reviews

In stock
Home Delivery
UK mainland delivery from FREE
You may also like...
---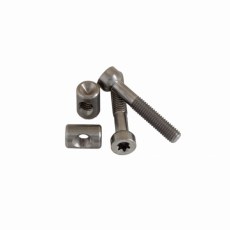 ---
People who bought this also bought...
---
---
---